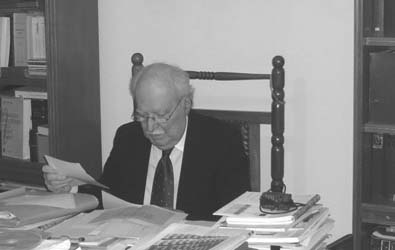 The law firm "N.P. Kambanis – N.I. Karamitsanis & Associates" ιs in essence the continuance of "Peter Kambanis & Associates Law Office". Peter Kambanis (1931-2019), continuing the family tradition of grandfather Lorentzos and father Nikolaos, both attorneys of Hermoupolis on the island Syros, studied law at the University of Athens, from where he graduated in 1955. After postgraduate studies at the London School of Economics (Diploma in Law), he started his own practice in Athens (59 Stadium Str. – Orfanides Arcade) in the year 1958. The office moved to 6 Omirou Str. in the year 1964, to end up at the nr. 50 of the same street in the year 1972.  
The office was manned by several attorneys – associates (most senior of which was Elias Dimitriou) and until the late 80es focused its activity mostly in cases of maritime nature.
From the beginning of the 90es the fields of expertise of the office broadened mainly toward the direction of commercial law in general with emphasis on company law.
Τhe new law firm was founded in 2006 by Nikos Kambanis (son of the founder of the office) and Nikos Karamitsanis, both associates in Peter Kambanis & Associates Law Office. Nikos Karamitsanis, today Legal Counsel of TITAN CEMENT GROUP, is also continuing a long family tradition in law, having succeeded his uncle George Karamitsanis who retired in 1997. 
Peter Kambanis, retired as from December 3rd, 2008, after 50 years of practice.